NovelRank announces the results of 30 hours of development time: User Pages. What are User Pages you ask? They are pages that are created by you, allowing you to track multiple books on a single personal user page you define. This User Page can be accessed, like the rest of NovelRank, by anyone with the link to the page. However, unlike dedicated book details pages, NovelRank will not share the user pages with search engines. You are welcome to share them on your website or to your fans, but NovelRank will not have a 'list' available.
The best part of the new feature is that you do not need to make an account with NovelRank. You can actually create your account by logging in through Facebook, Twitter, OpenID, Yahoo!, Windows Live ID, or Google. This is all powered by the technology of RPXnow, which I have integrated into NovelRank. Here are the three easy steps:
Login through your favorite service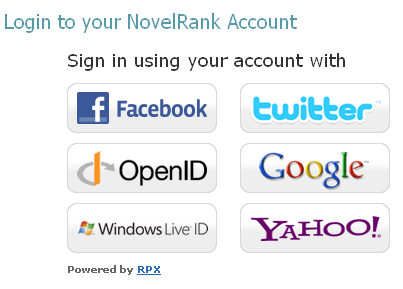 Create your account in less than 60 seconds and continue to your User Admininstration page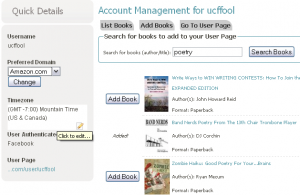 Add any books you already have added for Amazon Sales Rank tracking by searching for them. Once all the books are added, you can List Books or go right to your User Page

Feel free to bookmark/favorite your user page and from there you can view some vital information or access each book's detail page directly. The page includes:
Book Title
Book Author(s)
Status (if inactive)
Format (Paperback, Kindle Edition, etc.)
Sales Estimates for current and previous month
Sales Rank and Average Sales Rank
Furthermore, while you can choose your default domain, you can switch domains easily and temporarily on the User Pages, displaying only books you are tracking that are available on that Amazon domain.
What are you waiting for? Create your account now and enjoy the benefits!
Similar Posts: