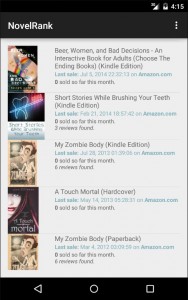 It's been a request for a very long time, especially since the iPhone app has been out for years and was recently updated. But now, the Android App is available in the Google Play store.
The android app was developed by me, which required learning a whole new programming language (enough to get by at least) and a whole new platform (Android). So, while the app is very simple, it does exist for Android device users like myself who wish to easily see their user account's books on-the-go.
So grab a download of the app and enjoy.
Why is it $0.99?
Google charges $25 just to put the app up, and it was 3 weeks of work putting it all together (because it was 100% new to me), so I believed that users of a completely FREE service like NovelRank wouldn't mind chipping in $1 for the convenience of an app.
Why not hire someone?
I didn't want to charge $2.99 for the app and potentially never make back the money spent.