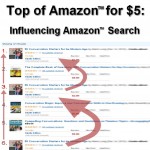 Announcing the results of 3 years of research: a PDF that will only be sold to 200 people, then it will be no longer available. The PDF is titled, "Top of Amazon for $5: Influencing Amazon Search". What does it offer? It provides explicit descriptions, screenshots, and instructions for an amazing way to get your product to the top of Amazon search results. This is a very big secret that will only benefit 200 people; will you be one of them?
This book is no longer available.
This method is not limited to books: it works for all products found on Amazon, and can be used on any Amazon site worldwide. Get your product in front of the millions of visitors to Amazon every day by appearing in the top 3 of the search results! Once you learn it, you can continue to use it as often as you need. This information will be shared with only 200 people to maximize the benefit for those lucky individuals. Don't miss out.
The PDF describes a method that will not cost anything, but is most effective with a small further investment of a few dollars. It's tested and proven to take a small investment in time and, optionally, money to rise in the search results on Amazon. There is also a 30 day money-back guarantee if you don't find the document clear and easy to follow.
Note: While this document can be applied internationally, it has the strongest value if you are U.S. based.
Act now, or before you know it, the 200 copies will be gone forever.
This book is no longer available.
Update: A review of the PDF.
Similar Posts: