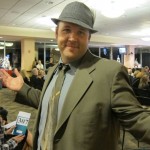 The picture to the right is me at a Meals on Wheels fundraising event, raising money to deliver meals to the homes of those in need. Besides NovelRank, this is one of the organizations I give back to and support, with my time and money. To that end, I'm writing today to ask for your support to keep NovelRank prospering in 2011. Donations have slowed enough that my hourly wage (hours working on NovelRank divided by donations dollars) has started going backwards and is now below $5 per hour.
In the last 6 months, NovelRank has made a large number of improvements, including: Research on sales rank myths, improved kindle sales estimate accuracy, improved social networking tie-ins, book analysis, CSV download and RSS feeds for user pages, sorting of books on user pages, added Amazon.co.uk Kindle book tracking, worldwide snapshot on user pages, and tons of little bug fixes and tweaks to speed up the website. I hope to continue in 2011 with an iPhone app, SMS/Email notifications of book sales, and greater support for Kindle books on Amazon.co.uk. done!
Of course, I'm happy to give something more in return, so here is what you can receive by donating: A coveted Featured Book spot on NovelRank, one of only 9 spots! Combined over the last 6 months, the books featured on the Track, FAQ, Publisher, Top 10, and Login have received a combined 341,000+ page views! The Track page accounts for 274,000 of those views in the last 6 months. To put that in perspective, this is 3 times the traffic expected during the last donation drive.
Donate $400 or more – You may choose 3 books to be rotated through all pages
Donate $150 – You may choose 1 book to be rotated on the Track page for each $150 donation
Donate $50 – You may have 1 book rotated through the FAQ, Publisher, Top 10, and Login pages
Optional: If you cannot use PayPal, use the NovelRank Supporters Amazon Wishlist.
Any donation amount will be accepted. The above amounts are simply reward levels. After donating, you can either email me or you will receive an email shortly after the donation asking you which book(s) will be included.
Thanks for contributing to this community supported website. All Featured Books will stay up till July 1, 2011 at a minimum. Note: The amount of page views received is not a fixed amount, but is dependent on the number of qualified donations and thus the number of books in rotation.
Cheers,
Mario Lurig
Creator, NovelRank.com
Similar Posts: