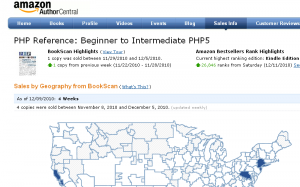 On December 10th, Amazon announced a new set of features available for free through Author Central: BookScan sales and historical sales rank data. Naturally, since at first glance these seem to be a similar feature set to what NovelRank offers, I took a look (along with thousands of other authors). After careful analysis, I decided to write this post and help inform current and future NovelRank users about the key differences and benefits. I've always said, if there is a 10,000 lb elephant in the room, put the spotlight on it.
First, a few quick links. If you want to read some FAQs about Author Central Sales Info, login to your Author Central Account, or learn more about BookScan, then take a look and then come back here. Otherwise, let me refresh your mind on a few key points.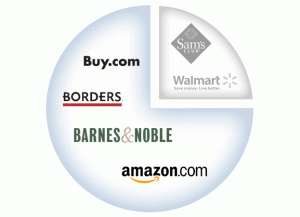 BookScan data represents Nielsen tracking of 75% of book sales through retail and online providers, as identified through the Amazon provided graphic to the right. Strangely, Amazon is not supplying their actual sales data to their suppliers (i.e. authors), but rather a 3rd party's data. Granted, it offers a broader scope, but Amazon still is not providing actual data (like it does with Kindle sales for self-publishers through the digital text platform). BookScan data does not track Kindle sales, and thus authors cannot get this data through Author Central.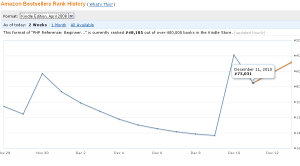 The sales rank tracking provided is a daily history of sales rank, collected at 11am PST (7am GMT). It goes back as far as October of 2009 or when you joined Author Central, if that date is after October of 2009. This matches NovelRank's oldest tracking, as it launched in Oct 2009 as well. However, within 24 hours, Sales Rank can fluctuate dramatically providing valuable hourly sales data analysis.
None-the-less, I think there is some great information here, but I'm still happy to have NovelRank. Below is a breakdown of the strengths of each of these services.
Author Central Strengths
BookScan data includes retail sailes
Geographical data offers touring authors useful data
Sales Rank history is available without prior request (as long as you had an Author Central account)
100% reliable sales rank collection from the source
Author Central Weaknesses
No sales data for Kindle ebooks
Sales data only available for the most recent 4 weeks
Only available for Amazon.com (no international support yet)
Limited to your own books (no competitor or research tracking)
Sales Rank recorded only once per day
Data updated weekly (not real-time)
NovelRank Strengths
Hourly Sales Rank tracking
Support for Amazon UK, Canada, Germany, France, and Japan
Ability to track books by others; for competitor or book development research
Support for Kindle books on Amazon.com and Amazon.co.uk
Historical sales estimates available beyond recent weeks
Downloadable sales and Sales Rank history (CSV)
RSS feeds, widgets, and other integrations
NovelRank Weaknesses
Sales estimates are not 100% accurate
Sales estimates are based on only Amazon sales
No geographical sales data
Sales Rank data only available from when tracking was initiated
I'm excited for the benefits to authors that Amazon is providing, but I'm still thrilled to be offering this free service, NovelRank, to authors and publishers across the world with more specific needs. If you continue to enjoy this service, remember to consider a donation to support it.
Similar Posts: