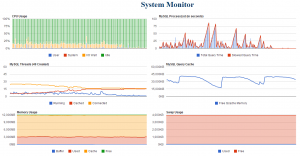 Things have been a little rough over the last 2 weeks…
After a lot of planning, plotting, and back-and-forth with my web host, Dreamhost, I decided that NovelRank's traffic and requests required an upgrade beyond the ~$100 Virtual Private Server (VPS) setup. My goal with this service is always to try and deliver webpages in about 2 seconds. Sure, charts, CSV files, and other heavy data requests may take a little longer, but the hope is that 99% of all the traffic on the site is served very quickly. Thus, the decision to move to a dedicated server (think a computer just for you).

The short version of the ordeal is that, over the past 2 weeks, the server allocated was:
Not configured properly for the traffic/data of NovelRank (I had learning to do)
Did not have enough physical memory for the shear size of the database
Took ~1 day to move everything over, at times taking the service offline for many hours
Was being overloaded by some inefficient code (oops)
While I tweaked the server settings [1] and made massive improvements to the code [4], the downtime [3] was unavoidable and luckily only lasted a day. The memory problem [2] however, could not be resolved without a massive extra expenditure. Needless to say, I tried everything, but the upgrade was the only answer, so it had to be done. The downside was that the service would be offline (along with every other web service I run) for another day.
So Where Are We Now?
About $250/month. Oh, you wanted to know about the user experience on the site? I'm happy to report that everything is running beautifully on a server with 4 cores (2.7Ghz), 12GB of memory, and 1TB of storage. I actually believe it can be tweaked to run even better, but that this tweak will not require any downtime and I'm waiting on some final advice before making the adjustment.
Is it sustainable?
Very soon there will be a new service available called NovelRank Pro, which will be integrated directly into NovelRank. Tied to your user account, it will offer additional features that will save you time and energy:
Update book statistics (lowest, highest, average salesrank) at any time (not just monthly)
Priority salesrank checking – Always check salesrank hourly
Access to the mobile friendly NovelRank Web App
Inactive books are automatically reactivated (if possible, checked daily)
Books are checked weekly for salesrank (first sale) on new domains worldwide
NovelRank Pro,will be $99/year* and cover every book in your user account. One fee, up to 99 books. Nothing is simpler or cheaper. These are features requested by users that cannot be added for everyone due to the extra cost (in resources), so by adding them as a paid option, it allows the extra server resources. Stay tuned for more info soon.
* The $99/year fee may increase on July 1, 2013
Similar Posts: