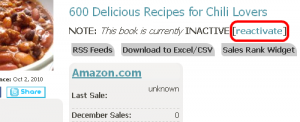 Ever gone to look at your book's listing and seen the status as inactive? You'll find it as a hyperlink on both the book's details page as well as on a user page. This seems to confuse a lot of people, so I wanted to explain it in a post, in the hopes that those looking for answers will find this post.
How does a book become inactive?
There are two ways a book becomes inactive. The first one is the most common, completely automated, and Amazon's fault. Basically, out of the thousands of requests NovelRank makes to Amazon each hour for sales rank data, sometimes Amazon fails to return a sales rank for a book, and does not display an error message, just a 'blank' for the sales rank. Other times, it will report an error that the book is no longer accessible through Amazon's API. While sometimes this is absolutely true (and thus would happen every hour), there are many times everything is fine again the next hour.
When this happens, NovelRank increases the inactive counter for that book (unique for each domain) by one. When the inactive counter reaches three, the book shows up as inactive on NovelRank.



The second way that a book becomes inactive is that nobody has looked at that book in 3 months. That means that nobody is viewing it via an RSS feed, the book's details page, a user page, a sales rank widget, or through a mobile application for a total of 3 months. At that time, NovelRank inactivates it. If it is still inactive after 6 total months of being ignored, it may be removed from the system to make space for other books.
To give you an idea of how user's access their book's information, here are the statistics for how a book was last viewed for books viewed in the last 3 months:
| Total     | Method |
| --- | --- |
| 16315 | Details page (novelrank.com/asin/ or novelrank.com/title/) |
| 3161 | User Pages (novelrank.com/user/) |
| 1384 | Added for tracking but never viewed elsewhere |
| 1148 | RSS feeds |
| 46 | Embedded using the sales rank widget |
How do I reactivate a book?
It's really easy, and it even happens to my book (it happens about once a year)! As you can see from the images above, I've circled in red the link that is present when a book is inactive. Simply click that link, which will bring you to the sales rank tracking page, with your book's ASIN already present in the box. Simply click the track button (check 'additional domains' if necessary), and the system will reactivate your book and check to see if it is available on any new domains!
Do you find NovelRank useful? Consider making a donation to support this free website.