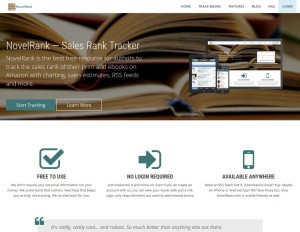 Above you'll see a screenshot from the upcoming NovelRank redesign. In fact, you can actually view it online right now. While this is only the first page, it is the basis that the entire redesign will be built upon. Below is a list of all of the improvements that are scheduled as part of NovelRank version 4's release. I expect to complete it in the third quarter of 2015.

Look & Feel
Make the entire site responsive, i.e. it will display beautifully and functionally at screen sizes ranging from mobile devices up to desktop computer screens.
Increase site exposure for Featured Books from each static page (home, faq, etc) to each book's detail page (in the footer).
Update meta data to include proper markup for social sharing on Facebook (Open Graph) and Twitter (Twitter Cards).
Maintain the color scheme from previous versions of the site
BLOG will be updated at a later date
Remove Social Login for user accounts and replace with username/password.
Improve new user flow for tracking a book, creating an account, and being exposed to NovelRank Pro
Provide permanent links to secondary NovelRank tools (Mobile Apps, Browser Extensions, etc) and account creation and login.
Replace all charts with a new HTML5 chart base (no more flash) that will be faster and mobile compatible (probably HighCharts).
Behind-the-Scenes Work
Use cookies to remember books tracked by users that are not logged in or do not have a user account. Encourage account creation or login to save those books automatically to their user account
Add ISBN-13 tracking as an automatic option
Automatically lookup and track the Kindle Edition of a book if a printed edition is submitted for tracking and Amazon has a Kindle Edition linked.
Smoothly transition users to the new username/password account system, retiring the social login completely by mid-2016.
Rewrite the salesrank checking scripts to run all domains independently (currently US and DE are independent, while all the others happen at once sometimes leaving a particular book's salesrank 'stuck')
Rewrite the javascript functionality for User Admin to bring it up-to-date with current standards
Add real-time statistics (Best/Worst/Avg rank) calculations for PRO users and enable a way for free users to manually update stats with a non-monetary action
Improve TITLE and url tags based on non-US characters.
Improve Publisher pages
Add one-click update option for PRO users who need NovelRank to update the image, authors, publisher, etc or who need to request deletion of the book.
I may edit this post as the redesign is underway to add or remove things as they become more apparent. If you have any questions or comments, feel free to email admin@… you know the rest (hint: it's the same domain you are currently on).