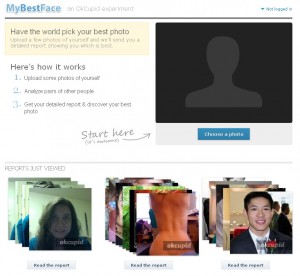 A picture is worth a thousand words, and if your author photo isn't the best representation of you, there is a possibility that it will work against your goal of selling more copies of your books. If your photo was taken by a professional photographer, and reviewed by your publisher, then this article isn't for you. If you are self-publishing and struggle deciding which photo speaks best to your audience, then it's time to explore MyBestFace.

While designed by the free dating site, OkCupid, there is no reason you can't re-purpose the tool for your own benefit! Fair warning, you will need to create an OkCupid account (let your spouse or significant other know how and why!), but one week later you may delete the account completely; It's simply necessary to use MyBestFace. So what does the site do? You provide it a selection of photos, you vote on other people's photos (choose A or B), and that earns you the review of your photos by the general population of users! It's free, requires only a touch of time, and can be very beneficial.
Why is this better than just asking your friends? Well, less bias to start, and secondarily the results are linked to personality traits that people identify with as well as demographics. That means that you can see which photo speaks to the audience that is most likely to read a particular novel, and choose the photo that speaks best to that audience. Now, you might be worrying that this site essentially encourages people to choose who they are most attracted to, however I would also second that it also has a preference for quality, approachability, and visually interesting photos. Don't knock it before you try it! Here's an example of the charts and reports you get from the service: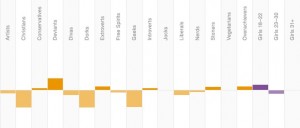 Valuable indeed! Remember, your photo will represent you on your website, twitter page, Amazon author page, book jacket, and any other site where you have a presence; It's important to get it right. As much as we may think that people will not react negatively to your book because of a bad photo, with one million books published a year, are you willing to take the risk?