Thanks to a user request by Ryan W. I am happy to announce a very simple extension for the Firefox and the Chrome web browsers. It's not a robust extension, but it will allow you to quickly access NovelRank from Amazon (and if the book is not yet tracked, add it for tracking quickly). Here is what the extension does on Amazon's website: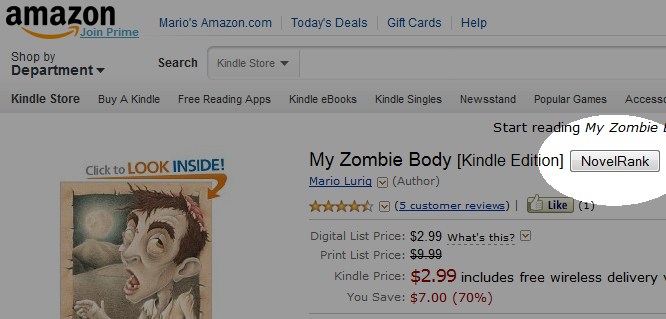 When you click the button, a new tab/window will open and display the NovelRank page for the ASIN. However, if that book is not being tracked on NovelRank, the page will automatically redirect you to the tracking page, insert the book's ASIN, and with one-click you can start tracking it. Neat trick, right? You can download it below for the browser of your choice (sorry Internet Explorer, no soup for you).
Download for Firefox
Download directly from Mozilla or you can left-click here and choose Allow.
Download for Chrome
The NovelRank extension is now part of the official Chrome Webstore.

Bonus: Greasemonkey Script
If you would prefer to install the Greasemonkey script for Firefox rather than as an extension, simply download the GreaseMonkey version here.
Similar Posts: