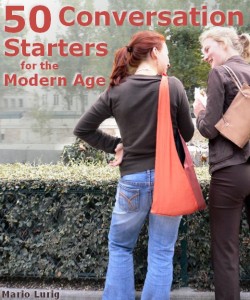 I'm proud to announce that I've published my second book! It's only available in e-book form and is priced at less than $4! The book focuses on 50 questions that anyone can use to stir up conversation, whether with a group of friends or introducing yourself to a set of strangers.
To that effect, I've launched the book's website as well, which can be found at 50 Conversation Starters .com. It includes a preview of the book as well as all of the links to purchase the book on Kindle, Nook, or in ePub format (every other device). Of course, my biggest hope is that NovelRank users who may enjoy the book and pick up a digital copy will also grace me with a review! I hope everyone has a fantastic holiday, no matter where or how you celebrate it.
If you have any feedback on the website, please let me know in the comments below.