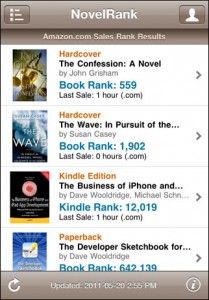 It's been 10 months in the making, but as of today you can download the free version of the NovelRank iOS app in the iTunes store using the following link:
http://itunes.apple.com/us/app/novelrank-amazon-sales-rank/id423938573?mt=8
Reminder: Rate and Review the App!
The app, created by Electric Butterfly, Inc., is designed to show you all of the same data that you can find on your NovelRank User Page. If you don't have a user account yet, you can create an account easily. Of course, if you want to download the app and test things, you can always use the username demo in the app.
The app is completely free to download for your iPhone, iPod Touch, or iPad. There are ads inside the application, and as soon as a legal matter affecting all Apple Store apps, a premium version of the app will become available with some additional features and no ads. A free version will always be available.
"As a huge fan of NovelRank.com, I've long wanted a NovelRank-powered iPhone app," said Dave Wooldridge, author and founder of Electric Butterfly, Inc. "Working closely with NovelRank.com, we designed and developed this native app from the ground-up, providing NovelRank.com's core features in a convenient, mobile solution optimized for iOS devices."
To learn more about the features of the app and see more screenshots, check out the main app description on ebutterfly.com. The app is a very fast way to get details about your books while you are on the go. It has been fully tested, but if you do find any bugs, please report them at the above app page to Electric Butterfly, Inc. I'm thrilled about the work that has been done to make this possible, and without Dave Wooldridge, it would have never been possible.
About Electric Butterfly, Inc.
Electric Butterfly, Inc. has been developing award-winning web and software apps since 1995, currently specializing in iOS app development. Founder and lead developer, Dave Wooldridge, is the author of The Business of iPhone and iPad App Development: Making and Marketing Apps that Succeed (Apress) and other best-selling books.
iTunes Link
http://itunes.apple.com/us/app/novelrank-amazon-sales-rank/id423938573?mt=8
Similar Posts: